As a woman, you have special health needs. And you value personalized care. That's why we focus on prevention, comfort and privacy – to give you the best possible care at every life stage.
Girl Talk features up-to-date information about women's health conditions and connections to care through healthcare providers in the community.
FEATURED ARTICLES
The physicians and staff at Huron Regional Medical Center can treat an array of gynecologic concerns and offer a wide array of minimally invasive gynecological surgeries, including:
Benign gynecologic disorders
Menopausal medicine
Urogynecology
Infectious diseases
Hysteroscopy
Laparoscopy
Endometrial ablation
Treatment for endometriosis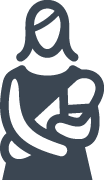 From the latest in ultrasound technology and fetal diagnostics to education classes, the obstetric staff at HRMC provides caring and compassionate pre- and post-natal care.
Bringing a child into the world should be one of life's most joyous and wonderful experiences. That's why our obstetrics team dedicates itself to making expectant and new mothers, along with their families, feel welcome and comfortable through every step of pregnancy and childbirth.
Compared to traditional mammography, 3D mammography takes multiple images of the breast from different angles, providing more accurate diagnosis and fewer false positives.

 
Regular breast screenings are key to early detection and treatment of breast cancer. Our trained technologists provide compassionate care and help women to address concerns about pain or fear of diagnosis. HRMC also offers flexible scheduling for busy working women.
---
ASK A DOCTOR
Do you have an embarrassing or awkward health question you'd rather not ask publicly? Click below to submit your question and read answers to other commonly asked questions. We're all in this together, girls, so let's help one another out!
---
For every cancer survivor, there's a story.
Learn how mammograms helped these local women survive breast cancer, then learn more about how you can treat yourself and schedule yours.
---
Girl Talk in no way seeks to serve as a substitute for professional medical care. Consult your physician before undertaking any form of medical treatment or adopting any exercise program or dietary guidelines.